24 Jan

Stormwater Facilities Supports Wreaths Across America Event with a Unique Donation
Stormwater Facilities Supports Wreaths Across America Event with a Unique Donation
While the season of hustle and bustle is wrapping up and the nation is resetting for a new year, we have time to reflect on the achievements and challenges 2020 has brought us.
Despite the overwhelming difficulties of coordinating a massive event in the time of COVID-19, Wreaths Across America managed to continue their traditional wreath-laying ceremony on December 19, 2020. This was accomplished while navigating ever-changing restrictions to protect their volunteers and continuing to honor those who have sacrificed everything for our country.
In the aftermath of such a substantial event, community support is invaluable. Wreaths Across America has accepted a donation from Stormwater Facilities to help with collecting and recycling over 3,000 wreaths and 350 wreath boxes at Annapolis National Cemetery following the annual National Wreaths Across America event.
Stormwater Facilities has donated a large dumpster for a second year to this 501(c)(3) non-profit because their mission to "Remember. Honor. Teach." reaches not only through the holidays but throughout the entire year. The Veteran's Wreaths that are laid each year embody the mission of Wreaths Across America and bring some peace to those who are left behind.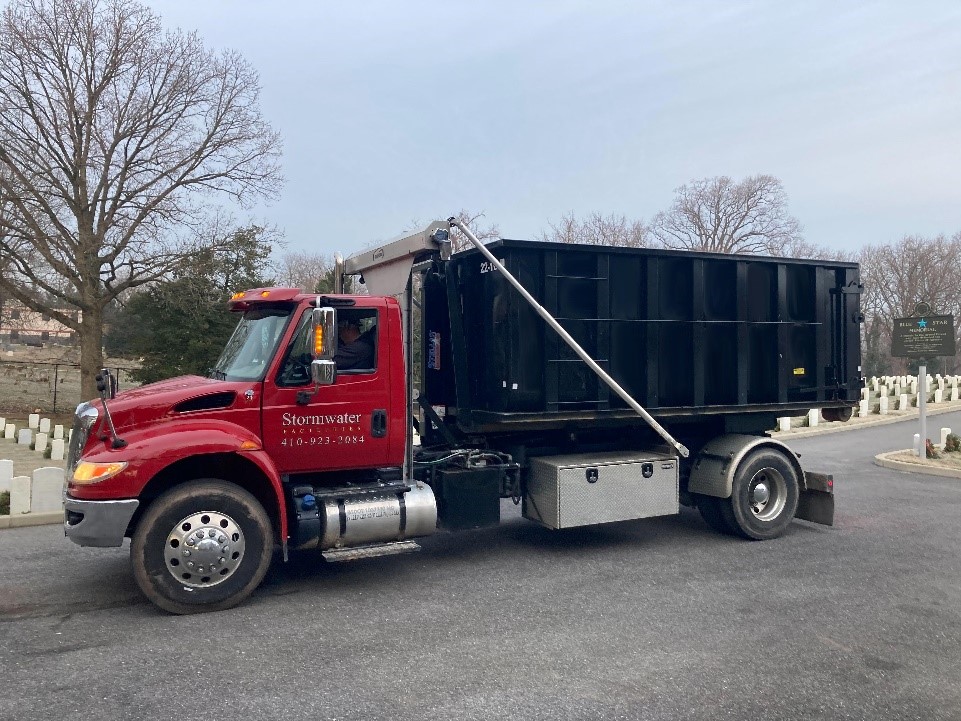 As a family-owned business for over 25 years, Stormwater Facilities understands the importance of family and the immense grief that is felt after losing a loved one. Based in Millersville, Maryland, Stormwater Facilities is a total site development leader servicing Anne Arundel, Baltimore, Howard, Harford, Prince George's, and Queen Anne's counties. Being located so close to Annapolis National Cemetery offers a daily reminder of what our service members have endured and given for the sake of their country. We will never forget their sacrifices and we remain deeply grateful for the strength of the surviving families.